24.05.2013
Your business is unique. So are your telecommunications. When your business changes, so does your telecom. In three steps, we will give you a good idea of what a carefully adjusted telecommunications infrastructure can mean for you. The focus here is on both, data and speech traffic, and fixed and mobile calls. On towards your ideal telecom solution!
Step 1: Your business requirements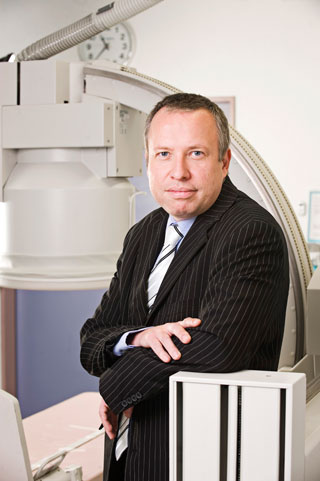 Dirk Lambrechts: General Manager of Europa
Ziekenhuizen
If there is one requirement that applies to all businesses and organisations, it is that good communication is crucial to success. This is the case for every organisation and more for some than for others.  "We need to be able to constantly call on a reliable and faultless communication network for all our hospitals," says Dirk Lambrechts, General Manager of Europa Ziekenhuizen, "so we have a reliable communication network that functions flawlessly, day and night." 
In addition, communication has broadened over the past years. "For us, it is no longer just a question of telephony, but also the fast and reliable exchange of data. The different sites within our organisation need to exchange personnel dossiers, scheules and digital mammograms with each other," adds Dirk Lambrechts.
Plus, not everything is limited to the organisation and the sites.  "Our doctors need to be able to request all details quickly and easily when they treat patients in their private practices," he says.
The demands of Europa Ziekenhuizen give a good idea of what an organisation requires for its telecom infrastructure today. "These requirements are defined by the organisation itself to a great degree. Some companies have multiple sites. Others also have international franchises with which they wish to collaborate. To a large extent, the nature of your company and your activities specify what you expect from your telecommunications," says Alex Vanzegbroek, who is a consultant at Consultecom and also active at BELTUG, the union of professional telecom users.
Outsourcing and added mobility
Besides this, there are two specific business requirements that have impact on the way in which their telecommunications are organised.  The first is the trend towards outsourcing. "You see it more and more," according to Alex Vanzegbroek.  "Previously, there was still a tendency to say 'What we do ourselves, we do better.'  But today, you see things like security, web applications, payment applications and even real telephone centres offered by a third party over the network."
Another business demand comes from the fact that business and their staff members are working in an increasingly mobile manner. And this is where we come to the core of the organisation. We see it in companies like Dalkia, a leader in the field of energy-related services including technical installations for heating and cooling. Some of the technicians are fitted with mobile devices that take care of the planning, registration and documentation of the work performed. "This solution is based on mobile data communication. Mobile communication is in this sense crucial to our manner of working. It forms part of our core activity, namely service provision," explains Erik Van Beylen, ICT Manager at Dalkia. "The reliability and the speed with which details circulate on mobile devices are crucial."
Step 2: Your telecommunication solution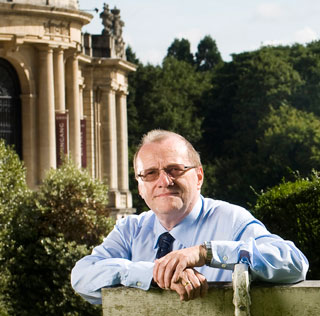 Alex Vanzegbroek: Consultant at Consultecom,
active within Beltug
We have to be able to work with a reliable and infallible communication network at all times.

Alex Vanzegbroek: Consultant at Consultecom, active within Beltug
In response to all these demands is your concrete telecommunications solution. One crucial solution is IP VPN, which brings all your various company locations into one virtual private network (VPN), so that they can communicate with each other in an efficient manner. "Actually, you combine diverse sites in the same network," says Alex Vanzegbroek. Staff members from various sites can use all office and company applications quickly and safely, just as if they were working at the company headquarters.
Organisations like Europa Ziekenhuizen call on their VPN IP networks for the exchange of data. "Whether you are inside or outside the hospital, making use of a fixed telephone, Smartphone, tablet or desktop computer, it makes no difference. All applications run via the same network. Our staff members can work together, despite the physical distance between our hospitals. It is just as if everyone was sitting next to each other," says Dirk Lambrechts, General Manager of Europa Ziekenhuizen, to summarise the usefulness of the IP VPN network.
Convergence on different levels
With IP VPN, all sites have the same possibilities as the company headquarters. But the benefits also apply among the different sites, and this is for both data exchange and speech telephony. "We call internally within our organisation and sites using the network. It's free and saves us a great deal on fixed telephony costs," according to Dirk Lambrechts.
Besides the separate sites, people working from home or staff members who are on the road benefit from a virtual network. They, too, need to be able to make use of an integrated IP VPN network, even when they are on the road. "Some of our technicians who are working at the clients' sites use a hand computer to send everything completely wirelessly via mobile data communication. The data comes via the link with the mobile network to the IP VPN and then onto our fixed data network," says Erik Van Beylen, ICT Manager at Dalkia.
An SLA that calculates on a montly basis is much more correct for a client than one that calculates on a yearly basis.

Erik Van Beylen: ICT Manager at Dalkia
Flexibility
Another advantage of an IP VPN is its flexibility. You can freely and quickly add locations and adjust the capacity or the bandwidth. You can add applications to your network i.e. telephone exchange centres that can also be used by the various sites. In your ideal telecommunications solution, convergence does not just play a role between speech and data traffic, but also between fixed and mobile. If you would like to make use of fixed and mobile calls made from the same operator, the communication is both, more efficient and often cheaper.
Step 3: Necessary services
There are no good telecom solutions without services. Because a number of services are necessary to ensure the good working of your telecommunications infrastructure. Clients can often make use of reports from operators so they can follow up on the service provision of their operator themselves.  Also valuable are the Service Level Agreements (SLAs) that specify service provision.  "For the IP VPN that we use, there is an adjusted SLA," says Erik Van Beylen from Dalkia.  "It means that among other things, the bandwidth is guaranteed."
It is crucial for your telecom infrastructure that the services specified in your SLA are met correctly. "It's important that your telecommunications operator plays a short game. An SLA that is based on service provisions for a month is far more important to a client than one that is calculated on services provided over an entire year," says Alex Vanzegbroek. "Because as an operator, although you might have a great percentage for your availability as a yearly average, if you've dropped the ball for three months in a row, there is a serious problem," he says.  "Personally, I think that an SLA needs to be correct for both the supplier and the client. Both parties need to be able to benefit from it."
Another indispensable service is the so-called QoS or Quality of Service. It gives priority to different elements of the network traffic. With MPLS networks, which Orange bases its services and solutions on, the priority is built into the architecture of the network. MPLS stands for Multi-Protocol Label Switching, and is the mechanism with which data packets in a network are transported. "Every packet gets a label which specifies and reserves the route it will travel, in advance."
Customised work
In practice, you might also hear about Class of Services, where every sort of traffic is distributed according to a certain class," says Vanzegbroek. For instance, telephony and videoconferencing belong to the real-time class, which has the highest priority, while undefined network traffic is put in the class with the lowest priority. "It's also important that the operator can adjust these classes in the Quality Service to meet the needs of the client."  In other words, the ideal telecom solution is more tailor-made to your needs than you might think.

Interested in our offer?
Would you like a commercial appointment? A consultant will call you back.