23.05.2013
Communication possibilities have never been as extensive as they are today. However, this involves a risk: you can easily get lost among all the different options. Using five rules of thumb, two experts on the subject will lead you to the optimal communication and connectivity between your company and its staff members.
The foundation of a successful company?  Efficient collaboration between all its staff members–wherever they might be: in the office, on the road or at a different business site. This collaboration depends on flawless communication and connectivity. So it is crucial that you pay the necessary attention to it. But exactly what do you need to watch out for? How much importance should you give to fixed and mobile communication? What type of infrastructure is needed and what is the best approach? And what about speech and data applications? For that matter, where does the Internet fit in the communication mix? You can't help but notice it. The increased communication possibilities have created a lot of doubt and uncertainties. And these cause considerable "static on the line".  While all you want is for your staff members to be able to communicate with each other as if they were sitting in the same room. This is why we have two experts here to help you tune your technological resources to your business (communication) goals. Carmen Cordier, Chairwoman at Crossroad Consulting and Paul Van Rompaey, IT & Telecommunications Manager at Vanhout, a construction company and Orange client, will develop and explain five clear rules of thumb.
1. Use one network for all your different sites and locations
Does your organisation include a number of different sites? Then bring the staff members from every location closer to each other with a Virtual Private Network, often called a VPN or IP VPN, because the network treats Internet Protocol (IP) as standard communication protocol.
With IP VPN, you link the local network of all your sites to each other–to one data communication network. This allows VPN to provide every staff member with access to all office and company applications. It's as if they were actually sitting there at the business headquarters. VPN is designed to easily grow with your company. By adjusting bandwidth or capacity, you can add extra sites to your network in no time. Paul Van Rompaey: "This is exactly what is interesting for a construction company like Vanhout, with a large number of temporary building sites. With the expansion of our network, we can provide the staff members at our sites with the same possibilities as they would have at the office."
Triple play : data, vocal and video traffic is reality nowadays.

Carmen Cordier, president of Crossroad Consulting
2. Link as many applications together as possible
The most important benefit of IP VPN?  The fact that it makes all kind of applications possible. Using IP VPN, you can provide all your sites with the same e-mail, Internet and software applications–from Microsoft Office to the CRM applications you use for your business.  Speech telephony is one of these applications. In practice, this is Voice over Internet Protocol (VoIP), where conversations go through the network as regular data traffic. This means all sites that are joined to your IP VPN can telephone each other for free. Paul Van Rompaey praises the fact that IP VPN bundles all kinds of applications together: "We want to have as little equipment as possible at our temporary sites. The people who are there are not technology wizards and would actually prefer not to be dealing with the technology at all."
As well as speech and data, video goes across the IP network. This opens up possibilities, which a growing number of businesses are capitalising on according to Carmen Cordier: "Triple play is a reality today: data, speech and video traffic. The last of these is becoming more and more of a practice in companies. There's no doubting that visual contact is very useful for meetings or presentations. But it doesn't stop there. The convergence of these three extends much further. The worlds of IT, Telecom and Marketing are effectively growing closer to each other. Think about the fact that we can currently offer the same message on different devices and can deliver it via different forms of media."
3. Communication is mobile
It's not just different sites that need to be linked to each other. Staff members need to be as well, including the ones who spend their time on the road.  "Crossroad Consulting has one office, but our consultants can be found virtually anywhere. The less they're at the office, the better.  Because if they're out, they're helping clients," explains Carmen Cordier. "To be able to work, all our mobile staff members need to have with them is a portable computer and a Smartphone. There is still a fixed line at the office.  But if we are out of the office? We call using our mobile phones–at set rates. Fortunately, our operator makes this formula possible.  I think that the fixed line connections are gradually disappearing.  Mobile communication has gained the upper hand. The future is wireless."
At Vanhout, the forepersons for the sites are frequently on the road. They are not just restricted to mobile conversations though. They also exchange mobile data, using a Smartphone with a contract that includes data sending. "This means that when they are on the road, they can read, for instance, their emails. Getting stuck in traffic does not mean that you are wasting time anymore," Paul Van Rompaey says.  "Good news for the client, because they get faster answers. And good news for Vanhout, because productivity increases as well." 
4. It all comes down to speed
Time is money. In business, things can never quick enough. And this means your communication network can't hold things back. Demand a fast connection.  "When we start up a new building site, it needs to go fast. That's why we use a mobile network. Using a 3G router, it connects with our operator's fixed network," explains Paul Van Rompaey.
If you want speed, you need bandwidth because speech and video traffic get stuck when there isn't enough bandwidth. For normal data traffic, you can count on a bandwidth of 200 kbps. And if there's less available, it will take longer for the webpage or e-mail to load and be visible. Speech and video data already require three times the bandwidth. And if there's less available? Then the speech or the image will drop out. To reduce this, firewalls and servers now have Quality of Service. This means they recognise the signal that carries speech and video traffic, and know that this data needs to be given precedence over other types of traffic.
"Sufficient bandwidth is definitely a requirement," agrees Carmen Cordier.  "Fortunately, it's no longer an impediment for operators. From what I understand, there will be sufficient bandwidth available to make all applications possible. Also because the compression technology is evolving. The people responsible for it know that a growing number of companies are becoming increasingly dependent on ICT."
5. Combine technology with efficiency
Technology alone is not enough. A fast connection between all your sites and locations is one thing. But which services and applications you draw from the connection is something else again. Don't forget about the human element: technological applications serve to bring people in touch with each other and let them work together.
"Personal contact remains crucial," says Carmen Cordier. "This is why we organise a teamwork meeting every two weeks. Everyone gives a situation report on their current projects. Besides this, we also put emphasis on the efficient use of communication: less communication, but more focused. Not just a stream of endless emails, but the right message at the right time." Good communication through technological applications?  It won't happen without the support of management. They need to promote IT and provide a budget for it.
"I realise that constructions companies don't have a reputation for being ground-breakers when it comes to IT and Telecommunications.  But Vanhout stands for innovation–on a technological level as well. Fortunately, we have management that share this vision," says a satisfied Paul Van Rompaey. 
Smooth communication with all staff members
In summary: communication is fundamental to your company. The more sites or locations and the more staff members you have, the more difficult your communication becomes.  Fortunately, these days, you can count on several technological tools. They enable you to connect all staff members as if they were in the same room. Do you want to communicate across the company borders?  Take the five rules of thumb into account: having one network, that is fast, mobile and efficient and has a variety of applications, is of paramount importance.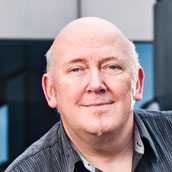 Paul Van Rompaey is the IT & Telecommunications Manager at Vanhout, a prominent Belgian construction company that has been making an impact for more than eighty years. Vanhout has developed into a diverse group: besides Vanhout Contracting, the holding also includes Botec Engineering, finishing company HBS, project developer Vanhout Projects, insulation specialist Isofoam and Vanhout Facilities. And the key values for all these companies? Quality, accuracy and innovation. The last of these is shown by Vanhout through its progressive technological character.



Carmen Cordier is the co-founder of the ICT a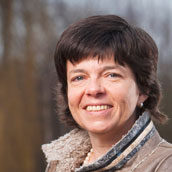 dvice provider Crossroad Consulting. She inherited her business instinct from her father John Cordier, who played a major role in the beginning of Telindus and Orange. As the name of her company already suggests, Carmen creates interfaces between business and information technology. In doing so, she relies on experienced staff members and her passion for information technology and business processes. 



Interested in our offer?
Would you like a commercial appointment? A consultant will call you back.