More business, fewer bits and bytes. Not just pure IT support, but more innovation. From IT to ICT. In a few words, that is the change that the ICT department is undergoing. And it's sometimes easier said than done. "In general, IT experts with a good business background are rarer than hens' teeth."
Our magazine spoke about the future of the ICT department with Professor Georges Ataya from Solvay Brussels School, and Chief Information Officer (CIO) Freddy Van den Wyngaert from Agfa.
How has the ICT department evolved over the last years when it comes to interpretation of assignments and personnel profiles? 
Georges Ataya: "The ICT department used to play something of a Father Christmas role. You could ask them anything, and if you were good, you received it.  But that time is over. The IT department also used to be responsible for every element of the infrastructure, every software application or every business process. But not anymore. Today, an IT manager is more of a 'supply and demand manager'.  The work is done with more selection and structure and in closer consultation with other departments. The focus shifted from pure technical knowledge to insight into the business needs and creating value for the company.  In short, from follower to partner.  Among the participants in the programmes 'Executive Programme for the CIO' and 'Executive Master in IT Management' that are provided under my leadership at the Solvay Brussels School of Economics and Management, this is a trend that is clearly visible." (Go to www.solvay.edu/it for more information on these courses.)
Freddy Van den Wyngaert: "Our ICT department has evolved into a professional organisation over the past years, with more attention to the tracking of certain ITIL (a frame of reference for the establishment of management processes) and governance processes. Furthermore, there is more communication and collaboration with the other departments. If the department used to have a supportive role, today, we are a consultation partner. Something else, which plays a part in this evolution, is that today, we provide services to clients or joint ventures which Agfa is involved in. This, too, requires us to think in a more strategic manner. So not just about technical innovation, such as the introduction of technologies like VoIP or a policy based on the Bring Your Own Device, but also business innovation, such as with new business models for Agfa and IT services for clients, to generate more turnover."
The ICT department used to play something of a Father Christmas role. You could ask them anything, and if you were good, you received it. Those days are over.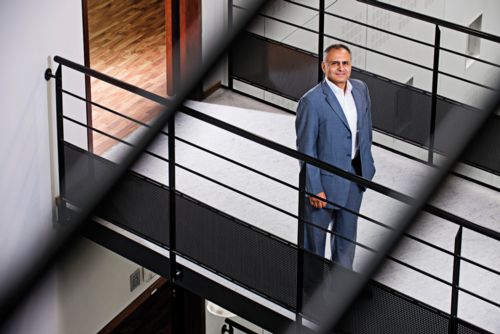 Georges Ataya: Solvay Brussels School of Economics and Management
Has this also affected the profiles that you attract?  Are new capacities needed?
Freddy Van den Wyngaert: "We actually have more need for business profiles. And there I'm thinking of the many business transformation projects at Agfa, as well as our separate team for Cloud, Managed and Professional Services. In particular we need project managers for both initiatives. There is a clear evolution towards a more business-like approach of ICT that has less to do with bits and bytes. You need to know that, generally speaking, IT experts with a good business background are rare. On the other hand, within our organisation, we still need a lot of those technical profiles, because we take on most IT tasks ourselves."
Georges Ataya: "Some skills that barely used to be discussed are now important. Here I'm thinking about better communication with colleagues, or internal clients.  But also Marketing and Sales will become more important in the IT department of the future. People would have thought I was crazy if I said that in the beginning. But an IT department will have to learn to sell itself."
What do the priorities need to be for ICT?
Georges Ataya: "Besides the fact that an ICT department needs to take better care of its own marketing, its strategy and financial figures are also going to be important.  Actually, you could say that the IT department of the future will be led like a company in itself.  With clients, costs, resources and a clear value, just like in a normal company. Instead of running an IT department on the basis of a set budget, companies will have an IT department that creates value. This is exactly what the goal needs to be. "
Freddy Van den Wyngaert: "The priorities will change from business to business of course.  But at the CIO forum Belgian Business, where I am the chairperson, when I speak to fellow CIOs, it appears that there are a number of areas where we, as an IT department, need to evolve further in our role as co-initiative takers. We will need to innovate more, on both business and technological levels. We will need to better lead changes in organisations. But another priority lies in the integration of all elements in a so-called architecture. You see a lot of solutions that are offered, for example, via hosting, or in the Cloud. But the task of an IT department is to keep an overview and keep everything integrated."
What is the relationship between applications and services that are supplied for externals? 
Freddy Van den Wyngaert: "At Agfa, we don't go for outsourcing very much. In any case, it's less than it used to be. In as far as that goes, we might appear to be a bit of a black sheep. But when I speak with my colleagues, I notice that they use outsourcing in all sorts of environments. Companies use it for sure, but at the same time, they are very careful in doing so." 
Georges Ataya: "In principle, everything can be sent out. Everything can be outsourced, except the control, because you're best off keeping that internal. Funnily enough, it is just this control that in the past was frequently left for others, because a lot of the time, this aspect looked to be the most difficult part of the whole task packet for an IT department. I think that outsourcing will increase in importance in companies, even though you see a lot of resistance to it nowadays."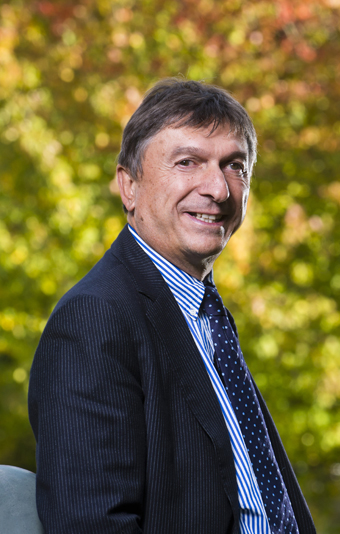 Freddy Van den Wyngaert: CIO at AGFA
One of the trends in the ICT department is the collaboration between traditional ICT and telecommunications. This is why we now tend to speak about ICT and not IT. How does this work in your own organisation, today and in the future? How do you approach it?
Freddy Van den Wyngaert: "We have noticed that speech and data traffic have become more interwoven in the past months and years.  This convergence will only carry on. This is why we choose parties that are the best in their domain, such as technologies like VoIP. But we keep the operation of these under our own management. We choose Orange for mobile telephony and for the BlackBerry services.  Moreover, BlackBerry is still the standard device within the organisation, although we also support Android and are beginning to set up new technologies like iPhone and iPad more and more frequently. This makes things more diverse, but as a CIO, you have to be a part of the thinking process. Today and definitely in the future."