23.05.2013
The future awaits us. Very soon, we will be implementing the use of LTE - or Long Term Evolution – on the Belgian market. You might also have heard of it as the fourth generation in mobile communication. An important step, even though other technologies will still remain important for you and your company. We approached Pieter Ballon, Professor at the Vrije Universiteit Brussels and research leader at IBBT, and Philippe Toussaint, the Director of Business Transformation at Orange, to find out what we can expect in the field of mobile technology.
Is LTE the mobile technology of the future? 
Pieter Ballon: "A lot of people are suggesting LTE is the big new revolution in technology.  Operators are talking about the new fourth generation in mobile technology.  And although official bodies like the ITU (International Telecommunications Union) believe that LTE does not go far enough in relation to bandwidth, I still think LTE is a big step forward.  You need to know that every decade a major development takes place in mobile technology.  The first was in 1981; the mobile telephone came ten years later; and the third generation arrived in around 2001 with UMTS (the Universal Mobile Telecommunications System).  The fourth generation, LTE, is the beginning of a similar new cycle.  And there are often intermediary technologies, like HSDPA (High-Speed Downlink Packet Access), which bring improvements to the current generation."
Is the higher bandwidth the biggest benefit of LTE?  And how fast is LTE?
Pieter Ballon: "LTE will certainly increase bandwidth and speed.  That has been a constant in every evolution over the past ten years.  But besides the bandwidth and speed, LTE has an even bigger benefit: it finally makes it possible to switch to a network that is completely based on IP (Internet Protocol).   I'm thinking about Voice over IP (VoIP) or more simply said, 'calling over an Internet connection'.  In this case, speech is sent as a data packet over the mobile network.  At the moment, we still need to split speech and data, but LTE changes that.  And because LTE is fast, it has less connection delays, so it insures fast conversations on the Internet."
Philippe Toussaint: "The theoretical speed of LTE is 100 Mbps (megabytes per second) for the downloading of data and 50 Mbps for the uploading of data.  In practice, I think that with the latest technology, we will be able to reach between 5 and 12 Mbps for download and 2 to 5 Mbps for uploading.  That is better than what most fixed broadband connections reach in practice.  But best of all, is the improvement in the so-called latency, the lag in response time.  This is where the interaction, or speed of reactions, will be faster than with technologies like ADSL.  This is a big step forward for the user.  Furthermore, the technology makes more efficient use of the radio-spectrum and that means we can serve relatively more mobile users."
With LTE mobile broadband becoms a real possibility.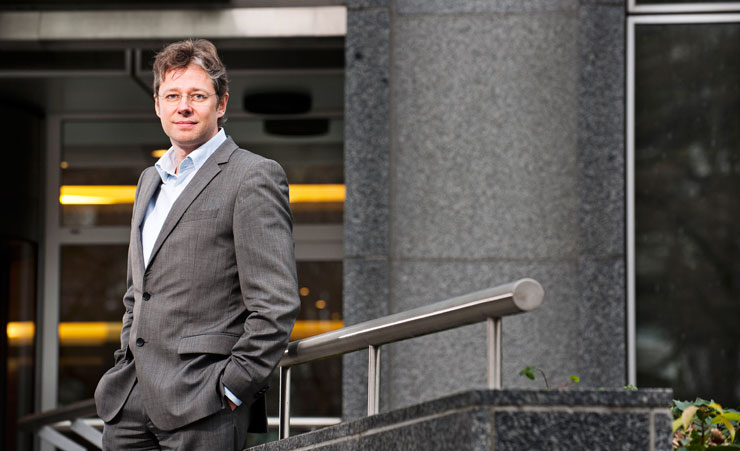 Pieter Ballon : Professor at VUB and head of research at IBBT.
 
That sounds great, but what does a network like LTE have to offer companies?  What business applications will be possible? 
Philippe Toussaint: "The business applications are in line with the advantages to do with latency.  I think that in regards to business, besides the increased comfort you have with the mobile use of laptops and tablets, there are advantages for real-time applications such as surveillance via mobile devices and cameras.  Or for the registration of vehicle number plates.  Plus, biometric applications, such as iris or fingerprint scans, will also be possible.  In short, with LTE, mobile broadband – the technology that allows us to make a connection to the Internet anywhere and with any portable device – becomes genuinely feasible. 
Pieter Ballon: "Until now, video telephony was more feasible in theory than in reality.  With LTE, this changes completely.  But if we want a real mobile broadband environment with the necessary capacity – so that we can send heavy files when we're mobile, we have to be a little bit patient.  But the outlook is definitely positive."
Nowadays data traffic has exploded – thanks to Smartphones and tablets.  Is that success the motivation behind LTE?
Philippe Toussaint: "I think that 'data-explosion' is a bit of an exaggeration.  We have certainly seen clear growth in mobile data communication, caused by the popularity of Smartphones and tablets that have an inbuilt SIM card for receiving data.  The data traffic via laptops with USB keys has receded – not spectacularly, but there is a light drop.  Which is logical, because laptops are being replaced by Smartphones and tablets."

Pieter Ballon: "I think that network congestion will be the biggest incentive for LTE.  With iPhones and Android devices, the growth in mobile data traffic will persist and possibly increase.  While the traditional voice traffic will simply remain constant.  People will continue to call when they're mobile.  For a time, this new technology will run alongside the traditional networks.  There is no set coverage required by the government, so I expect that to begin with, it will only appear in strategic places, like cities, or in large business centres.  It will therefore take a number of years before LTE is widely available.  At the same time, there are already LTE networks operational in the US and Sweden, so it's definitely not going to be in the distant future."
What other technologies and standards, such as Wi-Fi or femtocells will remain important?  And what about the combination of technologies? 
Pieter Ballon: "A mobile standard like Wi-Fi will continue to be important.  But, as said: with LTE, mobile broadband will be a genuine possibility, ensuring you of wireless Internet access everywhere.  As such, it is strong competition for Wi-Fi.  The femtocell technology ensures that at home or at the office, virtually everyone has access to his own base station besides the larger mobile phone towers.  If this technology really breaks through, the competition will be even greater.  Besides this, there will always be niche technologies emerging, but the impact of LTE will always be great.  For one because operators will renew their infrastructure with it.  The technology will be dominant, if only because of the scale with which it's used."

Philippe Toussaint: "Of course I'm of the opinion that other forms of technology will be or continue to be important, one more than the other.  Some, like NFC (Near Field Communication) and Bluetooth, which is more for B2C, for mobile payments and the like.  But you always need to take the so-called 'trade off' between technology and user-friendliness into account.  If multiple technologies are involved, it's more difficult for an operator to guarantee the service will remain optimal, for the simple reason that you don't have control over everything.  This is why Orange has focused on LTE and a smooth and seamless transition.  This looks to me like the very best thing for the end-user."

You certainly can prepare yourself for a future with LTE – operators like Orange are already on their way there.  And although this fourth generation in mobile communication will not sweep other technologies, like Wi-Fi and Bluetooth, off the table, it does promise to become the most important application on the market.  After all, LTE has large numbers of international operators and users swearing by it.  But especially since, in comparison with the other technologies, it offers just that little bit more: greater bandwidth, higher speeds and improvements on latency or response time.  Besides this, with LTE it is possible to serve more mobile users, and make the switch to a network that is completely based on IP possible.  Faster.  Better.  Greater.  Just what your company is looking for, in times when 'on-site working' has the upper hand and mobile communication is more important than ever before.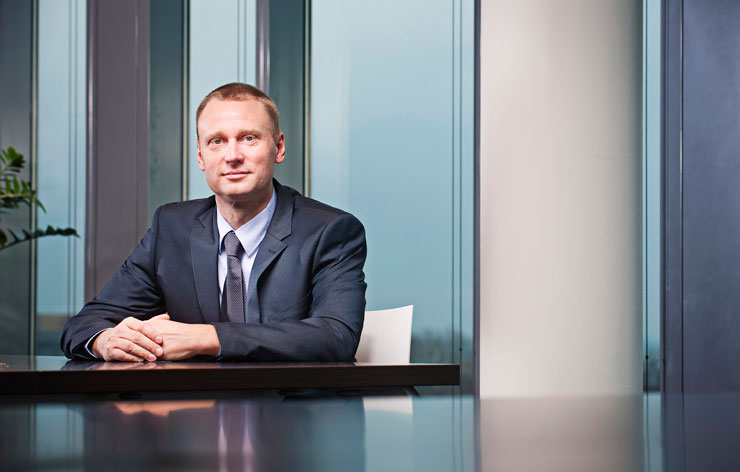 Philippe Toussaint

Interested in our offer?
Would you like a commercial appointment? A consultant will call you back.