The balance between work and private life
12.06.2013
Are things in your company becoming all intertwined and intermingled? Are professional devices also used for personal means? Are your employees able to answer personal or professional calls without any rules relating to time or place? Then make sure you read this whitepaper.
This whitepaper is the result of collaboration in Europe between Orange, Orange Business Services and BearingPoint. It gives you an original and comprehensive look at the various forms of communication within different organisations. Staff members bring their own devices, habits and preferences from their private lives to the workplace for reasons such as a desire to be permanently and efficiently connected to friends and family. These personal uses and habits are forcing their way into the business world. In turn, the business world needs to adapt itself to this unavoidable trend – a trend that is becoming stronger and stronger.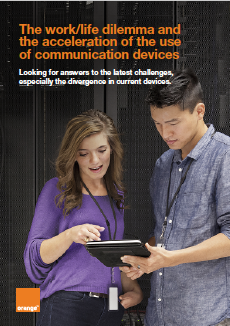 Would you like to read our whitepaper?  

Interested in our offer?
Would you like a commercial appointment? A consultant will call you back.