Enterprise Messaging
Your omnichannel communication
Orange Enterprise Messaging enables you to interact with your clients through various communication channels from one single integrated location.
Orange Enterprise Messaging
Communicate with your clients on their preferred channels
Communicate efficiently using Enterprise Messaging, a professional solution that enables you to send text, WhatsApp and voice messages, or to use AI from a dedicated platform or directly from your business applications.
Orange Enterprise Messaging integrates more than 30 messaging channels and ensures transparent communication between your personnel and clients from various industries.
Send appointment reminders or rotas to your teams and use two-factor authentication to ensure secure online transactions. All this with tracking and reporting functionalities and tailor-made modules that meet all your organisation's requirements.





Chatbot solution
Artificial Intelligence assisted conversation
Our AI-trained chatbots have the intelligence to understand the intention and the needs of the users and to provide them with quick replies.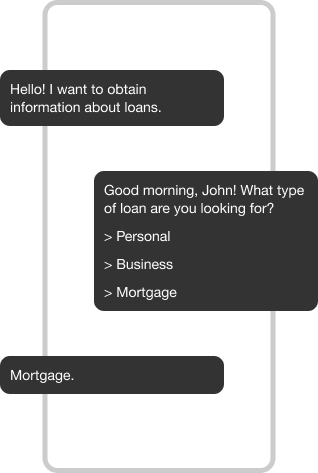 Gain new prospective clients or optimise your customer service
Our solution offers a whole host of possibilities:
Unlimited creation
Build codeless chatbots with sophisticated personalisation methods.

Integration on various channels
Provide end-to-end conversations in more than 60 languages on more than 30 channels.

Result monitoring
Monitor the personalised measurements and the data of each functionality to gain deeper insight.
Messaging
Combine our solutions
Communicate directly and efficiently with your target audience through various channels to send the correct information to the correct person and in the appropriate format.
Combine text messages, voice, WhatsApp, conversational AI and e-mails.

Text messages
The messages are opened on average within 3 minutes from receipt.
Support your marketing, operational and security processes with instant and efficient text messages.

WhatsApp Business
Share and receive documents, images, files and web links.
Send reminders, enquiries, confirmations and much more with the use of personalised models.

Voice messages
Implement automated voice message campaigns to communicate with your target audience on any telephone number.

E-mail
Massively improve your interactions by using e-mail-based A2P messaging.

Conversational AI
Improve your customer's experience by entering into real-time conversations wherever or whenever they need help.
Detailed tariffs
Opt for the formula that meets your business requirements
Easy messaging
Enterprise messaging Basic
Enterprise messaging Plus
Enterprise messaging Ultimate
Target group
A free of charge service included in Shape to send up to 100 text messages per month
Ideal for low text message volumes
Ideal for larger volumes, integration with professional applications or tailor-made solutions
Ideal for larger volumes, integration with professional applications or tailor-made solutions
Functionalities
Email2SMS (link your e-mail to your mobile phone to send text messages directly from your mailbox)
Webtool
Enterprise Messaging Basic
+
Access to API
Other communication channels (WhatsApp, e-mail, voice, AI)
Enterprise Messaging Plus
+
1 module of your choice (REST API, two-factor authentication, Inbound, StaffMatch or StaffSafe)
Monthly tariff

Free of charge

€10.00/month

On demand
On demand
Price/text message
Text message tariffs as defined in your tariff plan

€00.09/text message

On demand
On demand

Try out all the benefits of Email2SMS. Discover Easy Messaging
Opt for a professional messaging solution now. Contact your Enterprise Messaging Expert
Would you like to know more?
Explore our products in detail, how our solutions can help your business and your industry, as well as the optional modules and all the various possible channels for your omnichannel communication.
Contact our Enterprise Messaging Expert
Interested in our Orange Enterprise Messaging solutions? Please do not hesitate to contact us!
Contact your account manager now or just take a moment to fill in the contact form. Our specialists will contact you as soon as possible.

Hello, Interested
in our offer?
Welcome to
Orange Business.