20.11.2015
The company or organisation of the future will be a smart enterprise. And the Internet of Things is sure to play a major role. We look at the opportunities and challenges with two hotshots: Matt Hatton (UK) and Saskia Van Uffelen (B). We ask them both five important questions.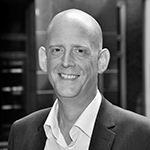 Matt Hatton is the founder and CEO of Machina Research. He is a widely respected expert on mobile technology with 15 years of experience in telecommunication research. Machina Research is a leading research and consultancy firm, focused on machine-to-machine technology, the Internet of Things and Big Data.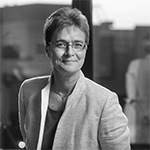 Saskia Van Uffelen is CEO of Ericsson Belux. She is closely involved with the Internet of Things trend. Through 'Digital Champion of Belgium', she tries to further encourage and motivate (technological) innovation in Belgium.
1. How would you describe a 'smart enterprise' and how does the Internet of Things (IoT) contribute to it?
Saskia Van Uffelen: 'In a smart enterprise, all data, from measuring points to video images, is connected. And the connection takes place at very high speeds. I'll give you a comparison: it historically took 100 years to connect 1 billion places with each other. It takes 25 years to do the same with 5 billion people. But it will take just 15 years to connect 50 billion devices – or things – with each other.'
Matt Hatton: 'A smart enterprise allows companies to access information from their most important assets, whether those are vehicles, stocks or vending machines. You have better insight into how your organisation works. And that enables you to fine-tune your entire organisation to your needs and your clients.'
2. What are the biggest opportunities for a smart enterprise? What can IoT offer them?
Matt Hatton: 'A crucially important added value is efficiency. If you have a remote view of, for example, your vehicle fleet, you can become involved and intervene where necessary. This can be an enormous opportunity – and more and more companies are seeing that too. The majority of the IoT projects have efficiency as a driving force, for plenty of reasons, including the way it makes returns so easy to estimate. A CFO or CEO will sign for such projects much more quickly. There are also projects that–despite forming a minority–will also change the business model of a company. A good example of this is the American company Zipcar. Thanks to IoT, their model has transformed from selling vehicles to being a service that rents vehicles.'
3. IoT is not new. Where do the possibilities differ now compared to five years ago?
Matt Hatton: 'The technology is more accessible for several reasons including the lower costs. At the same time, the applications are becoming more sophisticated. The way in which the technology is implemented and used will change. Think about the successes of the so-called connected car in which mobile technology plays a crucial role. We aren't talking about trace elements, but a vitally important element! Another example: five years ago, a drink vending machine gave out a signal that the stocks were running out. Now these vending machines can follow up stock in real time and adjust prices based on the weather. Or it can identify a client using facial recognition. The technology is being used in increasingly more strategic ways.'
Saskia Van Uffelen: 'I've often talked about the "Uberfication" or the disruptive digital economy that's a reality today. Competition is becoming less and less bound to specific sectors. A bank and a retailer are entering each other's territory more and more often. There are new business opportunities. Models are changing. A company like Philips used to sell light bulbs, but now they sell light.'
4. Which sectors will thoroughly change with the advance of IoT?
Saskia Van Uffelen: 'Really, every sector will change with the advance of mobile technology. Entrepreneurs often underestimate it. I miss the necessary sense of urgency. But the impact on diverse areas is enormous. Think about the spare parts for machines that are automatically printed on a 3D printer based on data input. It influences entire worldwide logistics processes. I also see the energy, healthcare and vehicle sectors changing considerably. Through automatic data acquisition you know about your respective energy use, health and driving behaviour. Important information for making better decisions more quickly. The most high-profile example is perhaps still the self-driving car. Pure science-fiction until recently, but it's now almost reality.'
Matt Hatton: 'IoT is very frequently linked to a limited number of sectors such as transport or retail. But it's popping up in every sector. I see remarkable growth in agriculture and industry. I personally expect a lot from the energy sector, where they look at IoT in a completely different way to how businesses do. IoT can help them, for example, evolve from a centralised to a decentralised production system, where users can reduce and adjust each other's streams.
5. What are the greatest challenges that IoT brings with it?
Matt Hatton: 'Security is an important challenge that is often pushed to the forefront. I already think that it will be further addressed. And I don't just see it as an obstruction. Security problems did not stop the advance of the internet. Privacy is an important point for attention, for all of us, including companies. But if I do the research, complexity will frequently come to the forefront as the most important challenge in IoT. I've noticed a lot of progress being made in the area, just as the costs for connectivity have dropped. A different important challenge is the way so many companies are getting cold feet. Some are still not capable of adapting their internal structures to align with their IoT projects that often have significant influence.'
Saskia Van Uffelen: 'Security and privacy are, of course, major focus points, but the biggest challenge is between our ears. 65% of our current jobs will no longer count within five years. We will have to ask ourselves which competencies we need, and creative, innovative thinking will be central. I see people slowly coming around to this idea in Belgium, but there's still a long way to go. At the same time, the international competition isn't standing still at all.'

Hello, Interested
in our offer?
Welcome to
Orange Business.