09.03.2022
Already discovered your revamped Customer Zone? The makeover includes three important changes that make managing your mobile fleet even easier. We spoke to Patrick Reynaerts, Customer Experience Manager at Orange, about these updates.
The Orange Customer Zone recently underwent a thorough update. "We started from scratch and rebuilt everything to match what our customers want. We also want to make it as easy as possible for them, so they can find what they need in just a few clicks," explains Customer Experience Manager Patrick Reynaerts. "One of the major advantages this revamp brings is that everything is now adjusted in real time. Previously, customers had to wait 48 hours to see changes, but now that adjustment takes place within an hour."
Not only has the Customer Zone been refreshed, but extra functions have been added that allow you as a customer to take care of certain administrative tasks yourself. We introduce some of them below.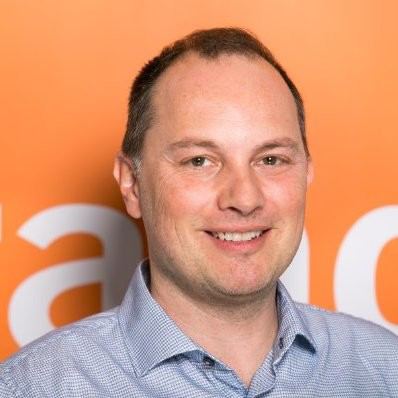 Updated e-shop
Our e-shop – where, in addition to the "normal" devices, you'll also find an exclusive B2B offer – has had a makeover. "The entire catalogue is far more user-friendly thanks to clear product photos, extensive descriptions, search and filter functions, and reviews from other users," says Patrick Reynaerts. "You can now compare all our devices and check availability in real time, so there are no unpleasant surprises at the end of the order." Also useful: the process is fully automated, so all our devices are delivered within 48 hours. Via your history, you can follow the progress of your order. And since there is no physical store for B2B devices, costs are limited and you enjoy low prices throughout the year.
Launch of the eSIM
If you activate a new number or renew a SIM card, you can now also opt for an electronic eSIM in your Customer Zone. This means end users receive a QR code by email allowing them to install the eSIM profile on their device by themselves. 
New options in case an employee gives notice
Is an employee leaving the company? In the Customer Zone you can easily plan when the contract will expire and when the number needs to be removed from your mobile fleet. "Previously, this could only be done at the point when the contract was actually terminated. Now the customer can plan this in advance," adds Reynaerts. The employee receives an email with the various options, and in just a few clicks, they can then choose a private subscription of their choice or a prepaid card.
Interested in how you can make managing your mobile fleet more efficient? Log in to your updated Customer Zone and get started now!

Hello, Interested
in our offer?
Welcome to
Orange Business.