16.05.2022
Hybrid working involves people as well as several key principles. The three Bs – bricks, behaviour and bytes – are central in our approach to the new way of working. What does it look like in reality? We're happy to show you how it works at Orange.
With the COVID-19 pandemic losing steam for now, organisations everywhere are determining how best to organise their workload. The approach varies considerably from one company to the next. Google's parent company, Alphabet, is investing heavily in its own office environment and therefore banking on at least a partial return to the office. At the other end of the spectrum, Airbnb recently announced that its employees never have to come to the office again.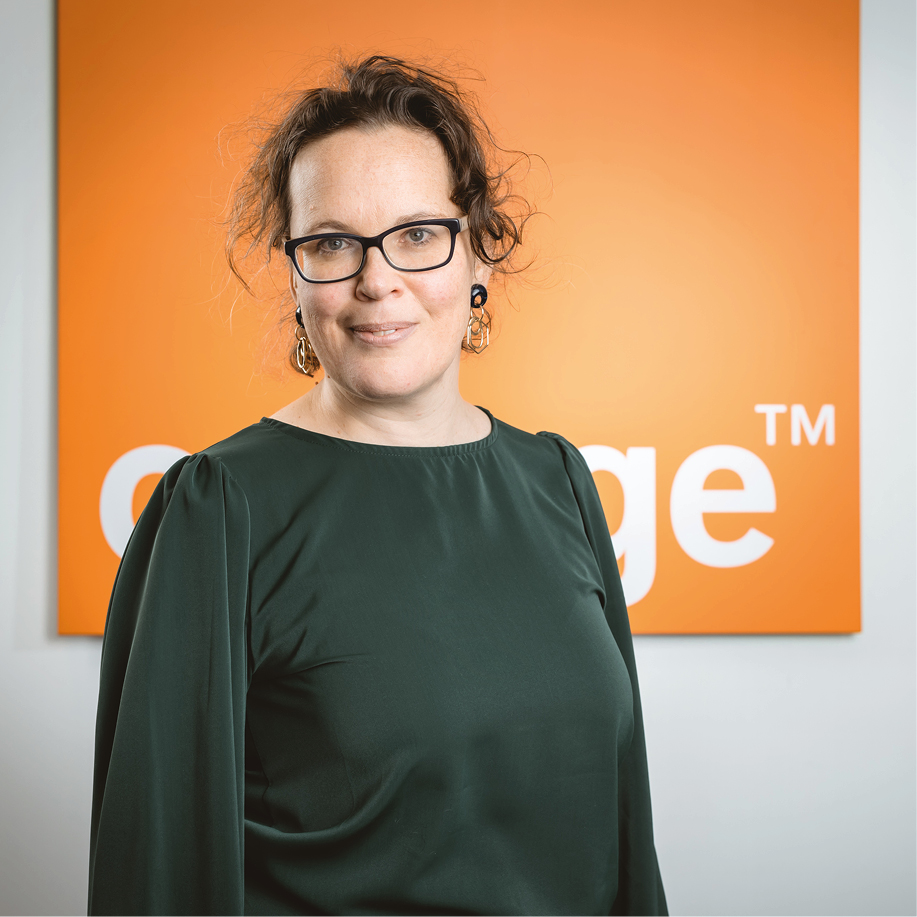 At Orange, we've decided to steer a middle course. "Work is done in the most appropriate environment," says Jelle Jacquet, Deputy Chief People Officer at Orange Belgium. Weighing the pros and cons of hybrid working is a question of bricks, behaviour and bytes. But what do those three Bs really mean to Orange? 
1. Behaviour
Behaviour is all about trust and agreements. At Orange, we've opted for a combination of general guidelines and agreements at a team level. We've created a transparent frame of reference for teleworking: every employee is assigned at least one day a week to work in their team and another to work from home, and everyone spends half of their monthly working hours at the office. 
We've also established clear guidelines and rules about collaboration. For instance, we constantly raise employee awareness regarding the etiquette of online and hybrid meetings, and we provide tips to optimise online collaboration. Team leaders have the support they need to implement an efficient leadership style in a hybrid context. 
2. Bricks
Both at home and at the office, a good workspace is absolutely essential. Employees must be able to work comfortably, undisturbed and efficiently. At our Orange offices we have different spaces, each with their own specific function. Every floor has collaboration spaces for team and project work, learning and co-creation. Orange Belgium has some 80 small and larger conference rooms for employees, as well as focus areas for concentrated work and meeting spaces for social interaction. Orange also offers logistical support such as office chairs.
3. Bytes
Bytes are about digital support: what do employees need to be able to do a good job, both at the office and when working from a distance? This aspect is primarily about technology and software. At Orange, for instance, time and location management is mostly organised using applications such as Quinyx. We also provide collaboration applications such as Microsoft Teams and Office 365 Cloud, and hybrid meetings are optimised with improved video call systems. Employees can easily manage their own mobility plan with the Vaigo tool.
"The main drivers here are productivity and well-being," Jelle Jacquet says. "And the way to organise this is based on work and activity instead of fixating on the number of days spent at home or at the office."
Looking for more information on teleworking and the tools your company needs for this? Our white paper and our webinar tells you all you need to know.

Hello, Interested
in our offer?
Welcome to
Orange Business.