15.02.2022
Last year AsterX Dranken, a rapidly growing liquor business, was crowned a Trends Gazelle. By innovating, automating and anticipating, there's no limit to its growth. "As an entrepreneur, it's best to be flexible. Everything is constantly changing."
AsterX Dranken is a family business with four liquor stores in Boom, Bornem, Heist-op-den-Berg and Waarloos. During the Covid pandemic, the company took advantage of the situation to optimise its structure and expand its activities. For example, last year it took over both a wholesale business and a delivery company and it opened a fourth store. This vigorous growth was crowned with the title of Trends Gazelle. One year on, how are things going for this growth company?
New dynamic
"For us, the title was confirmation that we were growing rapidly and we'd already come a long way," says manager Ruben Devrieze. The title of Trends Gazelle last year provided AsterX Dranken with lots of new contacts and generated greater brand awareness.
In addition, the recognition created a new dynamic within the company. "For example, we want to do more in our four stores in terms of customer experience. In so far as the Covid measures have allowed, in recent months we have organised a number of wine and whisky courses. And we want to put even more focus on action days and tastings," Ruben Devrieze explains.
From innovation to efficiency
AsterX Dranken continues to innovate wholeheartedly. "In the summer of 2020, we decided to switch to a new software package, one specifically designed for the beverage sector. Today we're using more and more of the possibilities offered by this package," says business manager Christophe Geeraerts. For example, the company will soon begin working with a new module for the B2B website with which orders for the wholesale business can be further automated. In addition, a CRM package is being developed for managing customer relations. Finally, the software also supports product picking and scanning. "Thanks to the service and network from Orange, we can act quickly," Christophe Geeraerts says.
Continuity via Orange
As a result of this rapid growth, the AsterX Dranken employees are working at several locations, and teleworking has made an appearance too. How does AsterX Dranken ensure that everything takes place securely and without problems? "A part of our data is in the cloud. Our server is regularly backed up to a different server, and we periodically make a backup of that onto external hard disks. In this way we always have our data available. That includes in emergencies, because – with all these cyberattacks – you just never know."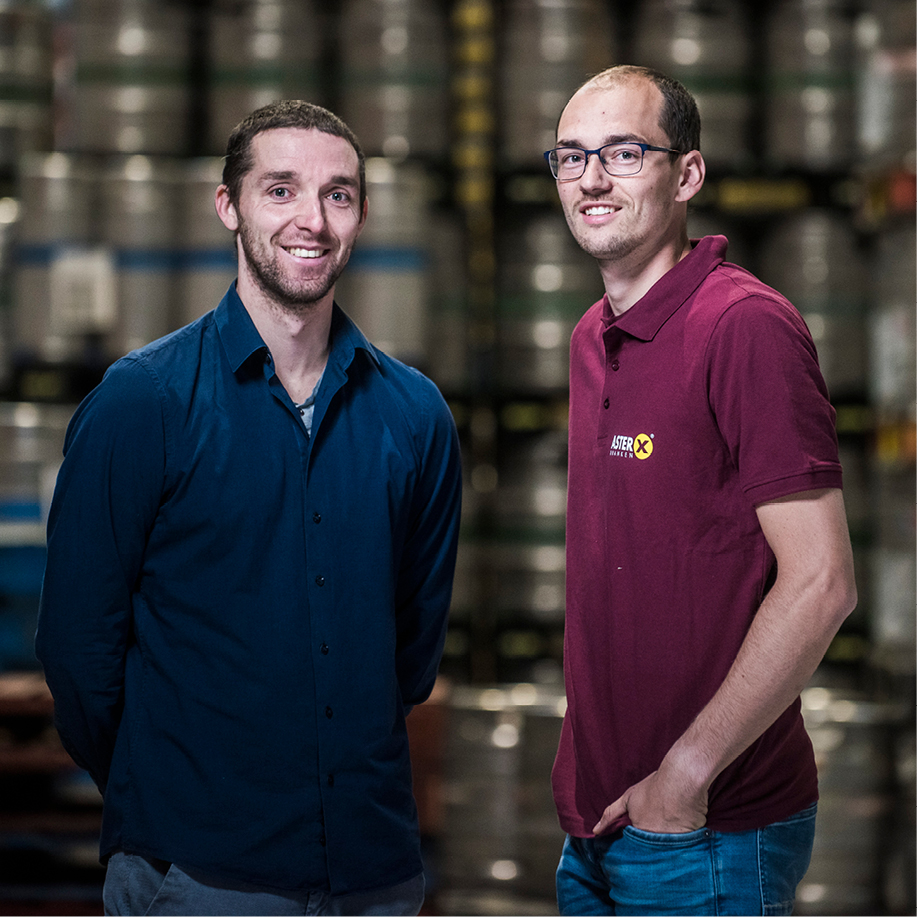 AsterX Dranken also makes grateful use of the Orange mobile network. All employees have a smartphone with sufficient mobile data, but it goes even farther. "For example, in two stores we have a 4G backup facility. Electronic payment remains possible even if internet access goes down." The business is delighted about the collaboration. "We are now looking at whether and how we can expand the partnership with Orange. In any case, that´s our intention."
Tips for entrepreneurs
What's happened to AsterX reads like a real success story. Do the managers have any tips for other companies? "It´s hard to generalise, since every sector is different," Devrieze says. "I would certainly say: do something you like to do. That makes it easier to put in the long hours which are unavoidable for achieving success, while at the same time you'll enjoy yourself a lot more," he adds. "But the most important thing is to be flexible. If we've learned one thing over the past two years, it's that the world is constantly changing. And the changes come on every level: economic, social or – like now – with a health crisis. Remain open to all these changes, and embrace them. It's the way to continue learning new things."

Hello, Interested
in our offer?
Welcome to
Orange Business.