11.01.2018
The efficient exchange of information is a crucial element in the overall effectiveness of your company. Not only at the office, but also on the move, when meeting with customers or on a construction site.

Embrace mobile working and guarantee immediate access to the most up-to-date project or product information on your laptop, smartphone or tablet. Consult drawings, schematics, plans or diagrams and make adjustments where necessary in cloud applications such as Dropbox, GoogleDrive or Sharepoint. No more printing lengthy files and dragging them along to construction sites. This eliminates the need for administrative follow-up at the office, while saving time and money. Nothing but benefits for you to capitalise on, provided you have access to stable mobile data.
Keep an overview
Quite a few construction companies deploy tracking or registration applications to automatically map key information, such as working times of construction workers, driving times of company cars and the location of materials and equipment. This info can then be imported into an Enterprise Resource Planning system (ERP). The result? Administrative tasks become routine and your administration is always up-to-date.
Keep your finger on the pulse
Keep abreast of what goes on at a construction site, even in your absence. For instance, you can access a camera feed on your smartphone, tablet or computer to prevent theft. Construction site reports can be drawn up in real time on a tablet, with apps that make it possible to digitally document a site in detail, signal problems with pictures or text and add orders and delivery receipts. These data are forwarded to the administrative manager or are entered directly into the ERP system. If desired, they can be made accessible to colleagues or other interested parties. In other words, retyping is a thing of the past. This means that mobile applications reduce the number of errors to a minimum and guarantee an improved information flow to all interested parties. All the information to take targeted action is right at your fingertips.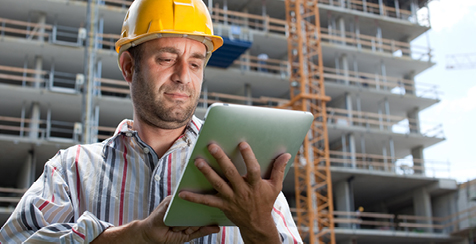 BIM
The digitalisation of the industry is increasingly supporting and facilitating the collaboration among the players concerned. BIM is a prime example and consequence of this process. BIM or Building Information Modeling is a trendy and often used concept in the construction world. This integrated process enables construction professionals to design, elaborate, explore and adjust a project in digital form before the actual building has even started. Contrary to the traditional construction process, where the principal first brings in the architect, after that an engineer is called on for stability and techniques, then much later the contractor and subcontractors enter the process and only then the facility managers. The ideal construction process within BIM starts with a meeting of all parties involved. The information that is digitalised and shared through BIM can then be used for communicating with drones, 3D printers, scanners, intelligent glasses, robots, connected objects and sometimes even software to manage buildings.
Telecom infrastructure for the digital construction company
An efficient exchange of information requires the following:
Would you like permanent access to accurate information? Then contact your account manager.

Hello, Interested
in our offer?
Welcome to
Orange Business.