Mobile technology is constantly evolving. In recent years, the most striking development has been the steady decline in the number of 3G device users. The number of voice calls and the data traffic on our 3G network are just a fraction of past volumes. As a result, the capacity that Orange Belgium has dedicated to 3G communications is being substantially underutilised. With the deactivation of 3G, the freed-up capacity can be repurposed for new technologies such as 4G & 5G.
The fact that mobile users communicate less via 3G is a global phenomenon, and we see that mobile operators in Europe, America and Asia are all gradually eliminating their 3G networks. Incidentally, since the summer of 2022 3G has already been fully deactivated across the entire US. In Belgium, the three mobile operators have also announced their plans to progressively discontinue 3G.
Orange Belgium will begin shutting down its 3G network in the beginning of January 2024. This will happen in stages: we will work by region in order to fully deactivate 3G throughout the Belgian territory by the course of 2025.
You can find more information below in the Frequently Asked Questions:

What impact will this have on me as a user?
The vast majority of Orange customers are already communicating via 4G, both for voice calls (Voice on LTE, VoLTE) and for data. The deactivation of 3G will thus have only a limited impact for most users.
Will there be reduced coverage without the 3G network?
4G's coverage is greater than that of 3G, in terms of both indoor/outdoor coverage and capacity.
The old 3G phones are still being used in our company, will they continue to function?
The old 3G mobile phones will be able to connect in 2G, which offers a voice call quality that is comparable to that of 3G.
On the other hand, the 2G network is less well adapted for handling large volumes of data traffic. Therefore, if your employees use a 3G device for exchanging mobile data, it is recommended to change over to a 4G device that also supports VoLTE.
 
It is also important that the tariff plan authorises 4G as well, which is the case for most of the Orange formulas. If you have questions on this point, please contact customer service or your account manager, we would be happy to verify it for you.
With 4G, your employees will be able to surf very comfortably and will also be able to call via 4G (Voice over LTE, VoLTE), so they will benefit from both a sound quality that is substantially better and a much faster connection establishment.
How can I check whether my device is 4G or 5G?
You can check this in your device settings. Please note: not all manufacturers use the same settings menu.
Proceed as follows to check whether your device is 4G compatible:
iOS (Apple):

Go to Settings > Cellular Data - Options > Voice & Data. If the 5G/4G/LTE option appears here, your mobile device is 4G and 5G compatible.


Android (other brands):

Go to Settings > Connections > Mobile networks > Network mode. Here you can see whether your mobile device allows you to select 5G/4G/LTE mode. If 5G/LTE/3G/2G mode appears, your device is 4G and 5G compatible.
Go to Settings > Mobile network > SIM1 > Preferred network type. Here you can see if your mobile device allows you to select 5G/4G/LTE mode. If 5G/4G/3G/2G mode appears, your device is 4G and 5G compatible.
Where will the 3G network be phased out?
We are working region per region. Here you can verify the zones where 3G will be stopped: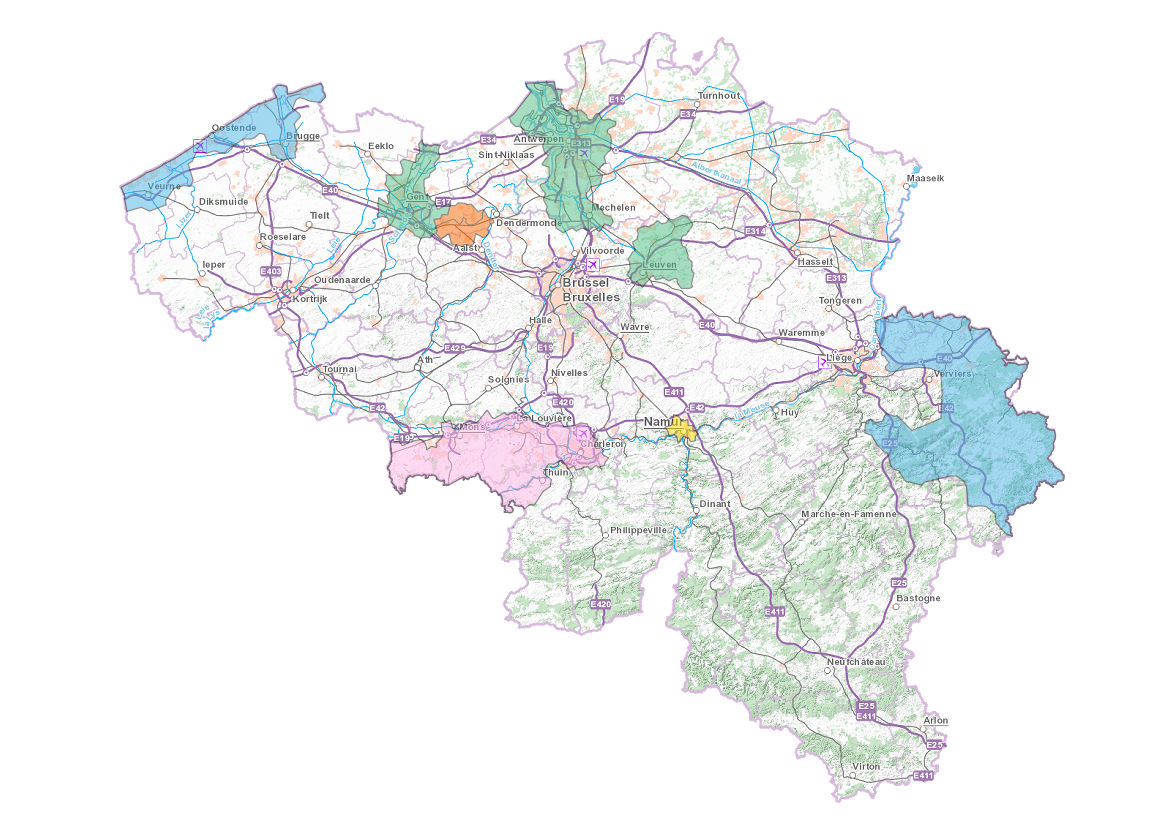 | | | |
| --- | --- | --- |
| Region | Period | Colour Code |
| Wetteren | 2024/01 | Orange |
| Kust | 2024/04 | Blue |
| Fagnes | 2024/04 | Blue |
| Anvers | 2024/05 | Green |
| Gent | 2024/05 | Green |
| Leuven | 2024/05 | Green |
| Namur | 2024/10 | Yellow |
| Mons | 2024/11 | Pink |
How long will the 2G network continue to operate?
Orange Belgium's 2G network will remain in service at least until the end of 2028.
Dates for eliminating 2G will be confirmed later.
Will this have an impact on roaming?
Roaming abroad: calling or texting from abroad is not directly linked to Orange's phasing out of 3G but rather with the phasing out of local operators. Click here for more details.
Roaming with foreign numbers on the Orange network: this is still possible over 2G or 4G (VoLTE roaming).
Specific questions about the IoT (Internet of Things) / Machine to Machine (M2M, Matma)
Our company uses applications that operate via 3G, what will happen to those?
Over the last few years a fair number of IoT applications have already migrated to 4G and 5G. After 2024 these applications will remain connected with the newer networks and will not be affected.
However, this will not be the case for those IoT applications that use the 3G network. In the absence of 3G coverage almost all 3G modems will revert to 2G. This means that your IoT applications will remain connected but the lower bandwidth may have a negative impact on data-intensive applications.
Are there any risks involved for IoT modems?
Phasing out an older network always involves risks. They have been included in our business analyses. We accompany our IoT customers in the switch in order to limit the risks to a minimum. In this process we take the time to identify the optimal solutions.
Phasing out 3G: 99% of 3G modems support a reversion to 2G. A possible scenario is that certain customer applications will no longer function properly because not enough bandwidth is available on 2G.
The phasing out of 2G won't start until a few years from now, leaving plenty of time for customers to modernise their modem park. Since hardly any operators in Europe, America or Asia will support 2G/3G in the long term, there is little risk that phasing out 2G will cause losses.
Will IoT sector companies be forced to purchase a new device?
Some M2M/IoT customers (specifically in the automotive industry) have already started implementing the switch to 4G/5G. We work with our customers well in advance to ensure an optimal transition to the best device and the best technology.
Is there a risk that phasing out 2G/3G will effectively end texting for IoT applications?
The texting services will be entirely transparent for the end user. Phasing out texts is not on the table. Texting services will continue to exist (the structure of text messages will remain unchanged). The texting centre will also continue to exist with a virtualised set-up.
---